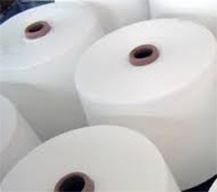 Material Gains
Ringspun Cotton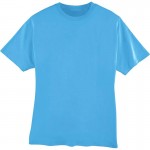 Fiber:Â  Ringspun cotton involves just what the name implies:Â  The cotton is spun in order to twist and thin the strands,
which are then arranged evenly, creating a strong rope of fibers that's finer and softer than regular cotton.
Features:Â  Ringspun cotton provides a soft hand, which makes it a go-to-fabrication for fashion-forward suppliers
and discerning end-buyers.  You'll find it most often in T-shirts, polos, sweatshirts, tank tops and fleeces.
Qualities:Â  Silky, soft, lightweight.
Polyester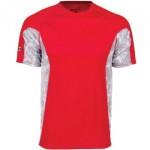 Fiber:  Polyester is man-made fiber that's petroleum-based.  The most common type of polyester is Polyethylene
Terephthalate (PET), which is often also used in plastic water bottles.
Features:  Polyester is hydrophobic, so it doesn't absorb sweat.  It's also moisture-wicking, shrink-proof and wrinkle-
resistant and it maintains its shape.  It's a staple of performance wear and increasingly featured in a diverse number of items.
Qualities:Â  Smooth, durable comfortable.
Poly/Cotton Blend
Fiber:Â  T-shirts made of a blend of polyester and cotton feature the soft hand of cotton, and the benefits of performance properties.
They're often hydrophobic, moisture-wicking, shrink-proof and wrinkle-resistant, and they maintain their shape.
Features:Â  Polyester/cotton blends not only offer performance properties and a soft hand, but also tend to be affordable
and comfortable to wear.
Qualities:Â  Wicking, durable, soft.
Poly/Spandex Blend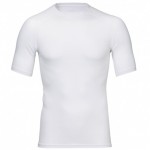 Fiber:Â  Spandex is a man-made fiber originally developed in 1959 that can stretch to over 500% of its original size without breaking.
It's often blended with polyester for compression sportswear, and it's also found in many different types of apparel, such as swimwear.
Even a small percentage in T-shirts, blouses and jeans give the garments a tighter, more form-fitting silhouette.  Other names are
Lycra and elastane.
Features:Â  Spandex is abrasion-resistant, and holds up well against body oils and the washing and drying process.
Qualities:  Stretchy, durable, lightweight 
Tri-Blend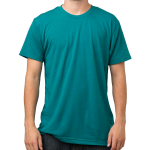 Fiber:Â  Tri-blend is a combination of cotton, polyester and rayon, a type of man-made fiber, which gives T-shirts a soft, worn-in feel.
Features:Â  In one garment, wearers can enjoy a super-soft hand, durability and the fine draping that rayon brings to the table.
This combination is especially popular for vintage T-shirts.
Qualities:Â  Soft, comfortable, durable.
Modal

Fiber:Â  Modal, a subset of rayon, is made of wood pulp cellulose from beech trees, which is then converted into fiber through a
chemical process.  The fibers are known colloquially as lyocell.
Features:  Modal offers a soft hand and excellent draping qualities.  It's also shrink resistant, fade-resistant and breathable.
Qualities:Â  Luxurious, soft, pleasant, flattering
Bamboo

Fiber:Â  Bamboo is converted to rayon much the same as viscose rayon:Â  the soft insides of the tree are extracted with
a steaming process, crushed and then converted into a fabric with chemicals.
Features:  Bamboo has an extremely soft, silky hand, often deemed softer than cotton or silk.  It's also naturally
moisture-wicking and antimicrobial.
Qualities:Â  Silky, luxurious, butter-soft.
---