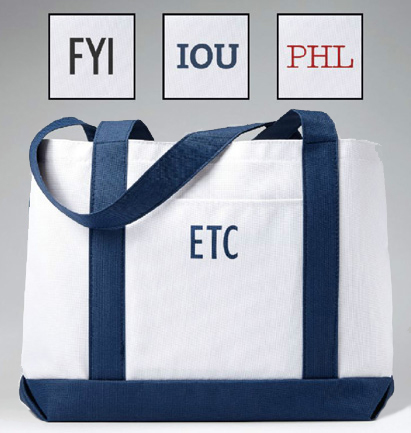 Gone are the days of scrolled initials on totes, towels and tees. Today's modern monograms take personalization and self-expression to the next levee. Clever three-letter words, internet terms and airport codes are among some of the hottest monogramming trends of 2015.
These modern monograms are fun (LOL), intriguing (TMI), emotional (XOXO) and even international (OUI).
Monograms are just more than a group of letters. Some people use them to stake a claim on their items. Others just like the way they look – and yet others use them as a way to get their hard-to-find name on their items. Whatever the reason you use them, monograms, which can be displayed in a variety of ways, have seen a resurgence in popularity.
Popular in the 1970s and '80s, monograms were once thought of as a status statement, according to Mary Garrett, owner of Initially Yours by MEG (her initials are MEG, get it?). "While they have always been a fashion staple, it used to be only the 'elite' had monogrammed items, but now they're much more accessible," Garrett says. Found on everything from stationary to jewelry to home decor, monograms can range from a single initial of either the first or last name of the person, a couple's combined initials or a person's first, middle and last initials.
Garrett, the self-professed "monogram queen" who has been embellishing items for 27 years, has seen the trend return with a vengeance. She not only embroiders for customers, but also applies monograms with adhesive vinyl letters. While it may be a practical way to mark your child's item so he knows the backpack is his, monogramming can just be for fun, Garrett says. "People like to see their names," Garrett says.
So go ahead and express yourself on a favorite article of clothing, a hat or a bag. Or do it for your BFF, just don't be too outrageous (OMG), B4N.
Resource: Â (c) 2005-2015 Turn Inc.
Posted: Thursday, June 13, 2013 6:00 am | Updated: 4:42 pm, Fri Sep 13, 2013.
CLAUDIA W. ESBENSHADE Staff Writer
---