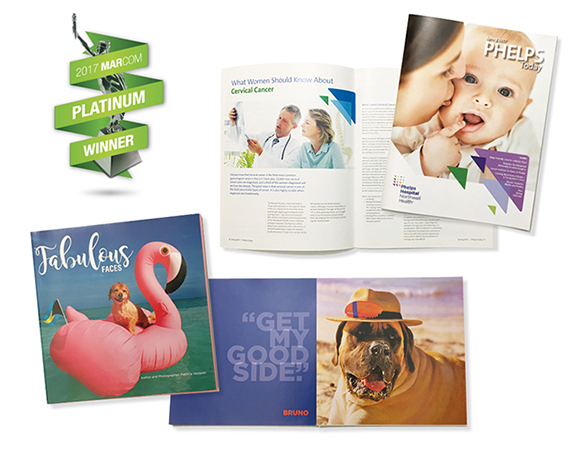 PCI Creative Group is the recipient of two 2017 Marcom Platinum Awards, the highest level that is awarded by this highly respected marketing industry organization.
The entries are both in the publication category. The first winning entry is the Phelps Today Spring 2017 edition in the nonprofit publications category. This piece is designed, printed and mailed by PCI Creative Group for Phelps Hospital. The second winning entry is for Patricia Vazquez and her book, Fabulous Faces. Proceeds of the book benefit The Bahamas Humane Society. PCI Creative Group provided copy collaboration, design and printing for this publication.
Marcom Awards recognizes outstanding achievement by creative professionals involved in the concept, direction, design and production of marketing and communication materials and programs. There were about 6500 entries from throughout the United States, Canada and 17 other countries. Judges are industry professionals who look for companies and individuals whose talent exceeds a high standard of excellence and whose work serves as a benchmark for the industry.
Marcom is one of the oldest, largest and most-respected creative competitions in the world. Winning a Marcom Award is highly sought after, peer recognition from the creative industry. Marcom winners range from huge international creative agencies and Fortune 500 companies to individual creative professionals.
Marcom is sponsored and judged by the Association of Marketing and Communication Professionals (AMCP), a 23-year-old international organization consisting of several thousand creative professionals. As part of its mission, AMCP fosters and supports the efforts of creative professionals who contribute their unique talents to public service and community organizations. Over the past few years, AMCP has given over $250,000 in charitable contributions.
PCI Creative Group is a cross media marketing resource company located in Stamford, Connecticut. Utilizing multiple marketing channels, they work with clients to design and execute projects that reach their audience how, where and when they want to be contacted—direct mail, email, digital media, print ads, or any combination of these methods. They work with clients to define their goals and then deliver the right strategy from image and branding, to web and interactive communication to print and mail.
---