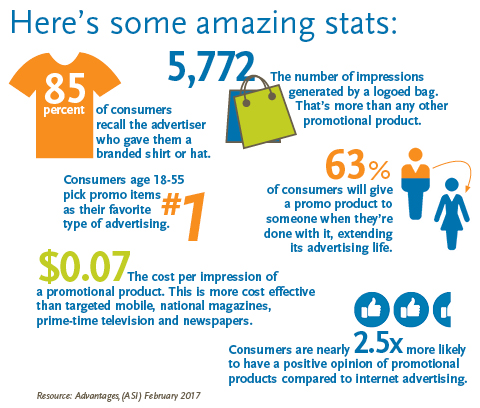 The once lowly, free, logoed item has steadily grown in importance and value, becoming a highly sought after and valued part of brand building. For many companies, the right branded item in the right hands can make a big difference in sales and perceived value.
For events, there is nothing like a crowd of people having a good time wearing your logo for a memorable and lasting effect.  And the visual it creates for social media is far reaching.
For human resources, there is no better way to welcome a new employee into the corporate culture with gear that is branded with your company logo. And for thanking loyal employees, a high-end gift is always well received.
But finding the right promotional items isn't just about finding an item and having your logo put on it. You need to think about why, who, where, when and how.
Make It Useful
It's a waste of money and defeats your purpose if your give-away sits in a drawer. Make sure the item you give is something that your recipients will value and use.
Make It Relevant
If the item is for a new employee, and you want something they can use to carry back and forth to work or meetings, think about how that employee will use it.  For instance, a backpack may be the best for some people, while a lap top case may be better for others.
Fit Your Corporate Image
If you are a trendy, environmental friendly company, you may want to look at products that come from recycled material or are more cutting edge. If you have a more traditional culture, then the items should reflect that.
Work with a Specialist
You may have already done some research and know what you want. Other times, you may be looking for suggestions. Either way, working with a specialist who stays current with new products and techniques and who can offer suggestions is invaluable. We usually suggest seeing a sample if there is enough time for that so there are no surprises. Choosing the right items from the right vendors can make or break the impact of your branded items.
---