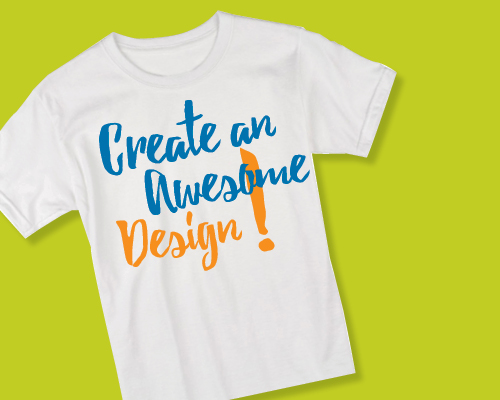 T-shirts still remain a "go to" when you want to promote your brand. In a recent survey, 91% of Americans claim they have a favorite T-shirt*, and you want that shirt to be yours! Schools and charities use t-shirts to build team spirit and raise awareness. Corporations use them to spread the word about their product or service, for incentives and prize promotions. But how do you create a t-shirt that someone really wants? The answer differs by event, but having an awesome design and a great fit will always be a good place to start.
There are so many t-shirts to choose from. Fabrics come in 100% cotton and cotton blends from ultra thin to ultra heavy. There are performance fabrics made of polyester or polyester blends, which are great for walks and athletics. Knowing your audience and having a price point in mind will help to make decisions when it comes to fabrics.
Styles can be fitted or boxy. There are cuts for men, women and children. If the group is young, you may want to go with a trendier style—possibly a v-neck, racer back or athletic cut. If you need a style that is for the whole family, a boxier, more traditional fit works best. The more traditional fit shirts also tend to come in the most variety of colors, so if you need multiple colors for teams or similar, that is usually the best choice.
Next, the design on the t-shirt can be the love it or leave it deciding factor that extends the life of the shirt from a one-time use to the lofty position as someone's favorite. The most popular spot for a corporate logo is still the left chest area. But, companies are becoming more creative with logo placement. Logos on the sleeves, yoke and even the bottom of the t-shirt are gaining popularity. This allows for a subtle, yet fun way to get your company name and logo seen.
If you are creating for a special event, then the whole shirt can become your canvas. The back, front, sleeve and even sides are all areas to consider. Dye sublimation is a newer imprint technique that allows us to imprint in full color and customize virtually every square inch of the shirt with your message. A trendy, on point message can get a lot of views and interest, and a great event logo can go along way on social media posts.
Whatever your budget, working with a good supplier who knows good design and apparel choices can take your T-shirt from boring to brilliant.
*Advantages Magazine February 2017.
---