There's no question that digital information is quick, easy, and away of life for most of us. No one is driving to the local library to look up a fact anymore. It's archaic. However, the printed word is still very relevant and growing in market share when advertisers are deciding where to spend their money, no matter the size or type of business.
Here's some really interesting facts:
•  79% of households say they read or scan direct mail ads
•  39% of customers say they try a business for the first time because of
direct mail advertising
•  Direct mail marketing yields, on average, a 13-to-1 return on investment ratio
•  92% of young shoppers say they prefer direct mail for making purchasing decisions
•  Direct mail brings in 78% of donations for non-profits
•  For every $167 spent on direct mail, U.S. marketers sell $2,095 in goods
•  Since 2004, direct mail marketing response rates have increased by 14%
•  56% of customers find print marketing to be the most trustworthy type of marketing
•  44% of customers visit a brand's website after receiving direct mail marketing
•  48% of people retain direct mail for future reference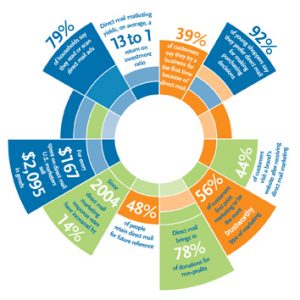 As you can see, print and digital work together to create synergy. Direct mail adds validity to your business, drives customers to your website and can increase the selling cycle. And this is true across all industries, non-profits included.
We welcome the opportunity to discuss how we can integrate direct mail with email, web and other marketing efforts. Call 203-327-0410 to speak to one of our Senior Marketing experts, or visit pcigroup.net.
---